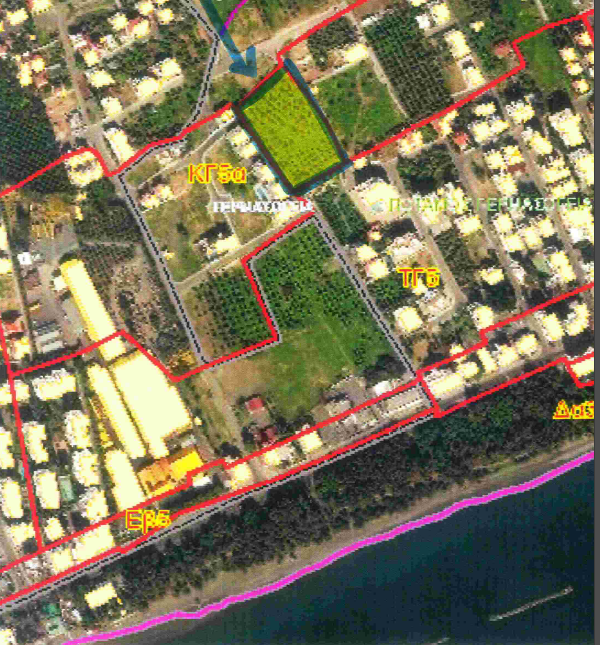 PRIME LOCATION PLOT WALKING DISTANCE TO THE BEACH IN LIMASSOL CYPRUS
Limassol,
€8,800,000
| MLS # 003
Sold
Property Information
SEE RUSSIAN WRITTEN TEXT AFTER ENGLISH TEXT!
VIDEO: CYPRUS….THE NEW INVESTMENT DESTINATION!!!
PLOT: 8,244m2 – NET AREA TO BUILT 7,000m2 approximately
 BUILDING COEFFICIENT: 100% + 15%
A large plots just a few minutes' walk from the beach close to the Dassoudi area of Limassol. Properties in that area are always in demand and sell at the highest prices.
A truly great investment with selling prices in that area ranging from €4,000 – €5,000 per m2 while Penthouses can sell for anything from €6,000 – €8,000 while your total building costs including the purchase of the land will be approximately €2,600 per m2 –
Based on our preliminary assessment we concluded that at least 8 x 4 floor blocks of luxury apartments and penthouses can be built on the plot on offer – with a total of approximately 60 spacious apartments including Penthouses, with total sales revenue of no less than €30,000,000 (net sales figure after discounts, promotions and agents brokerage fees)
This investment proposal is an  investment opportunity with huge profit margins that we recommend highly and recommend a quick offer.
We can safely predict that under current market conditions and prices an investor/s will have a return on his/their investment running into many millions – how many millions will simply depend on the grandness of the project built. Our own assessment is well over €10,000,000 (TEN MILLION EURO) in net profits and that is still a rather conservative estimate!
Sale price per m2 is within market prices for the area concerned and prices are expected to remain at level and even increase as the availability of prime location plots are becoming more scarce by the day and those that remain are either not on sale or on sale at well above market prices.
And finally…if the Investor/s so wish he/they need to do absolutely nothing!
By agreement my office with a chosen team of the best professionals from architects to civil engineers, accountants and lawyers and building contractors and under my personal and constant supervision of works can do all that is required on behalf of the Investor/s from scratch to finish OR in part – whatever the Investor/s decide and agreed between the two parties.
The investors funds meanwhile can be secured on the ownership of the plot that is worth proximately €9,000,000 euro while the additional funds needed for building the project will be held in a lawyers escrow account and released in batches as the work progresses and on the instructions of the architect overseeing the construction, the Investor and our office that will look after the Investors interest. If the Investor/s will not be present our lawyer or any appointed lawyer can act and sign on his/their behalf.
Alternatively an Investor/s can buy the Plot and deal with this great investment using their own resources or do a part co-operation arrangement with our office – either way we are ready to take instructions.
This exceptional plot is perhaps the only such large size plot at such a prime location currently available for sale and offers are already on the table. The owners will consider all offers received but our office by special agreement will be given priority on this matter but offers must be submitted as soon as possible!
Please note that ideally the owners would wish to conclude their decision on an acceptable offer by the last day of June 2017.
Time from purchase to drafting plans, getting planning permission plus building the project etc., approximately 2 years.
For more information and viewing arrangements call with no obligation 7 days a week from 9:00am to 9:00pm or email us anytime.
Greek & English Tel: 99 66 66 88 / Russian Tel: 99 86 23 12
Affiliates Welcome.
Price of Plot: €8,800,000
RUSSIAN TEXT:
ВЫГОДНАЯ ИНВЕСТИЦИЯ /ОГРОМНАЯ ПРИБЫЛЬ И ПАСПОРТ ЕС !!! УЧАСТОК В ПРЕСТИЖНОМ РАЙОНЕ В ПЕШЕЙ ДОСТУПНОСТИ ДО МОРЯ, ЛИМАССОЛ, КИПР.
УЧАСТОК: 8,244m2 – ОБЩАЯ КРЫТАЯ ПЛОЩАДЬ 7,000 м2 ПРИМЕРНО
ПРОЦЕНТ ЗАСТРОЙКИ: 100% + 5%
Большой участок во всего нескольких минутах ходьбы от пляжа, недалеко от района Дасуди в Лимассоле. Это самый востребованный район и недвижимость в этом районе продается по самым высоким ценам.
Очень выгодная инвестиция, рыночные цены в этом районе варьируются от €4,000 – €5,000 за м2 (квартиры) а рыночная цена на пентхаусы в районе от €6,000 – €8,000, общие затраты на строительство, включая покупку земли, будут составлять приблизительно €2,600 за м2.
Основываясь на нашей предварительной оценке, на предлагаемом участке можно построить, по меньшей мере 8 x 4 этажей роскошных апартаментов и пентхаусов – в общей сложности около 60 просторных апартаментов, включая пентхаусы, общий доход от продаж не менее €30,000,000 евро (это чистая сумма продаж после скидок, расходов на рекламу и комиссионных агентам).
Это инвестиционное предложение с огромной прибылью.
Мы можем с уверенностью прогнозировать, что при текущих рыночных условиях и ценах, инвестор/инвесторы будут иметь отдачу от своих инвестиций в миллионы – величина дохода будит завесить естественно от грандиозности построенного проекта. Наша собственная оценка составляет более €10,000 000 евро (ДЕСЯТЫЙ МИЛЛИОНОВ ЕВРО) чистой прибыли, и это довольно консервативная оценка!
Цены продажи за квадратный метр в разных районах абсолютно разные, в этом районе как ожидается, цены останутся на уровне и или даже увеличатся, поскольку доступность участков с выгодным местоположением становится все более дефицитной с каждым днем, а оставшиеся либо не продаются, либо продаются Значительно выше рыночных цен.
И, наконец, … если Инвестор так пожелает, то он может не делать абсолютно ничего!
По договоренности наш офис с избранной командой лучших профессионалов, от архитекторов до инженеров-строителей, бухгалтеров, юристов и строительных подрядчиков, и под моим личным и постоянным надзором за работами может делать все, что требуется от имени инвестора с нуля до конца ИЛИ частично – независимо от того, что Инвестор решил и по согласию между двумя сторонами.
Дополнительные средства необходимые для строительства проекта будут защищены, они могут храниться на счету назначенных инвестором адвокатов и освобождаться частично по мере продвижения работ и по поручению Архитектора, наблюдающего за строительством. Если Инвестор не будет присутствовать, назначенный им адвокат сможет действовать и подписываться от его имени.
Инвестор может купить Участок и распорядиться, как пожелает с этой большой инвестицией, используя свои собственные ресурсы, или как альтернатива договориться о сотрудничестве с нашим офисом – в любом случае мы готовы сотрудничать.
Это своего рода уникальное предложения, так как это единственный оставшийся такого большого размера участок в этом районе. Владельцы участка рассмотрят все полученные клиентами предложения, но клиенты нашего офиса по специальному между нами и владельцем соглашению в приоритете.
С момента покупки до начала строительских работ примерно потребуются 2 года, это время уйдет на составления планов архитектором, одобрения планов, получение разрешения на строительства и т. Д.,
Для получения дополнительной информации и просмотра участка звоните: 7 дней в неделю с 9:00 до 21:00 или пишите нам по электронной почте в любое время.
Греческий и английский Тел: + (357) 99 66 66 88
Русский Тел: + (357) 99 86 23 12
Добро пожаловать.

Цена участка: €8,800,000 евро
"© ALL RIGHTS RESERVED: Any un-authorized re-print or use of this material is strictly prohibited. No part of this text copy or photographic material may be re-produced or transmitted in any form or by any means, electronic or mechanical, including photocopying, recording, or by any information storage and retrieval system without express written permission from the author/publisher.
[mappress mapid="360″]