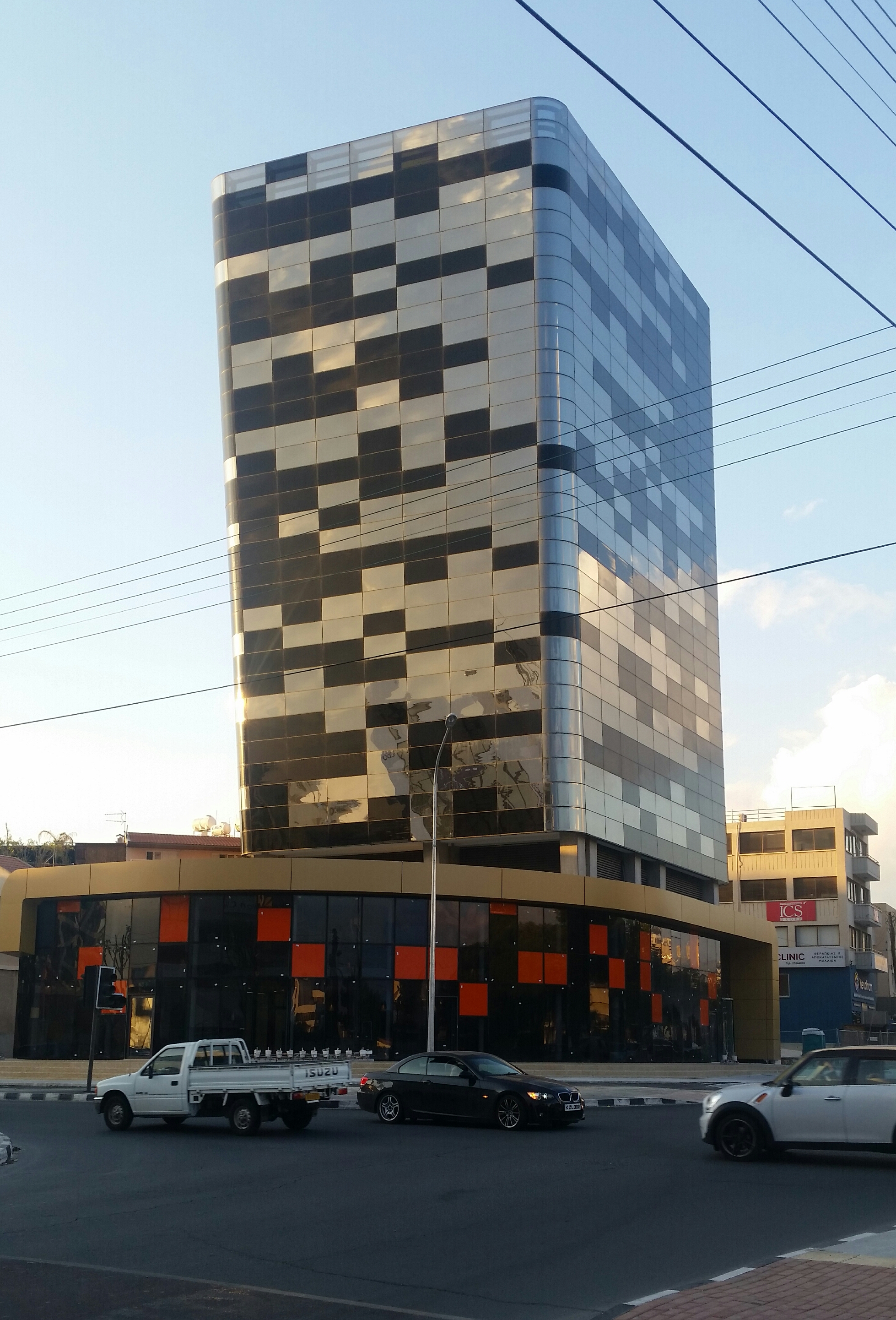 NEW MODERN OFFICE BUILDING FOR SALE IN LIMASSOL CYPRUS
Limassol,
€23,900,000
| MLS # 001COM
Sold
Property Information
Total Building area including common areas and 2 Shops at street level 6558m2!
Paris Business Center Limassol is an exceptional, hi-tech and ultramodern building, designed by Armeftis & Associates architects & designers.
It is centrally located in the heart of the emerging Arch. Makarios III Avenue with panoramic views across town and the coastline of Limassol.
Designed and constructed with the highest specifications, this Class A commercial building comprises of 9 floors of high security luxurious offices for sale and spacious ground floor retail showrooms for sale.
The modern architecture of the building, the future regeneration of the surrounding area and the use of best quality materials, make Paris Business Center Limassol a guaranteed investment for any company or Organization.
The unique development has been specifically designed to meet the diverse workspace requirements of modern business. Paris Business Center Limassol is designed to accommodate major businesses and professionals including Banks, Insurance Companies, Doctors, Lawyers, Oil Companies Public or Private Organizations, and Retail showrooms on the ground floor.
The project offers ample underground car parking for the needs of both clients and employees and also immediate access to Limassol's most efficient infrastructure and highway, leading to all major towns on the island.
A truly impressive building and a great investment while the imposing structure and height of Paris Business Center Limassol will make it a landmark of the city.
A contemporary concept is used for the organization of each office floor, based on the flexibility of space, giving friendly and smart spaces for workers and visitors. The building orientation utilizes the best possible living conditions, using south-east orientation for office spaces, imitating the openings on the west side. Energy-saving technologies are applied and ecological building products are provided such as insulation, low-e glazing, eco-labeled products plus more innovative design and working applications.
A truly impressive and unique design high-tech office building that can provide great office facilities and a high yield investment income.
Note: The Ground Floor premises are already rented to an Overseas Bank for 120,000 euro per annum on a 10 year lease with 4 rental increases throughout the 10 year lease period.
TOTAL INCOME FOR THE TEN YEAR RENTAL  PERIOD: €1,704,000.00!!!
VIP VIEWING ARRANGEMENTS & CYPRUS PASSPORTS
Viewing appointments can be arranged at short notice by contacting us direct by telephone or email as seen on the contact details on this website page.
For overseas clients coming to Limassol we can arrange collection from the airport any day and at anytime at no charge and viewing arrangements for this and any other residential or investment property available.
Non – European Buyers: Also note that non-European buyers or investors who acquire this building can qualify for a Cypriot / EU Passports.
Example: A syndicate of investors can invest and all  qualify for Citizenship and a Cyprus / EU passport!
FREE OF ALL CHARGES…if the purchase is negotiated through our office – we also undertake to commence the legal process through our firm of lawyers to successfully conclude for the buyers all legal and immigration procedures needed to obtain a Cypriot EU Passport/s – at no cost to the Buyer/s!
More details on Request
For more information and viewing arrangements call with no obligation 7 days a week from 9:00am to 9:00pm or email us anytime.
PRICE: €23,900,000 + vat (building, shops and all parking)
PRICE: €17,515,000 + vat (building & 50 parking spaces)
Floors can be bought seperately – prices for individual floors seen at price list attached with photos.
ALL RIGHTS RESERVED. Any unauthorized reprint or use of this material is prohibited. No part of this text copy or photographic material may be reproduced or transmitted in any form or by any means, electronic or mechanical, including photocopying, recording, or by any information storage and retrieval system without express written permission from the author/publisher.
[mappress mapid="51″]