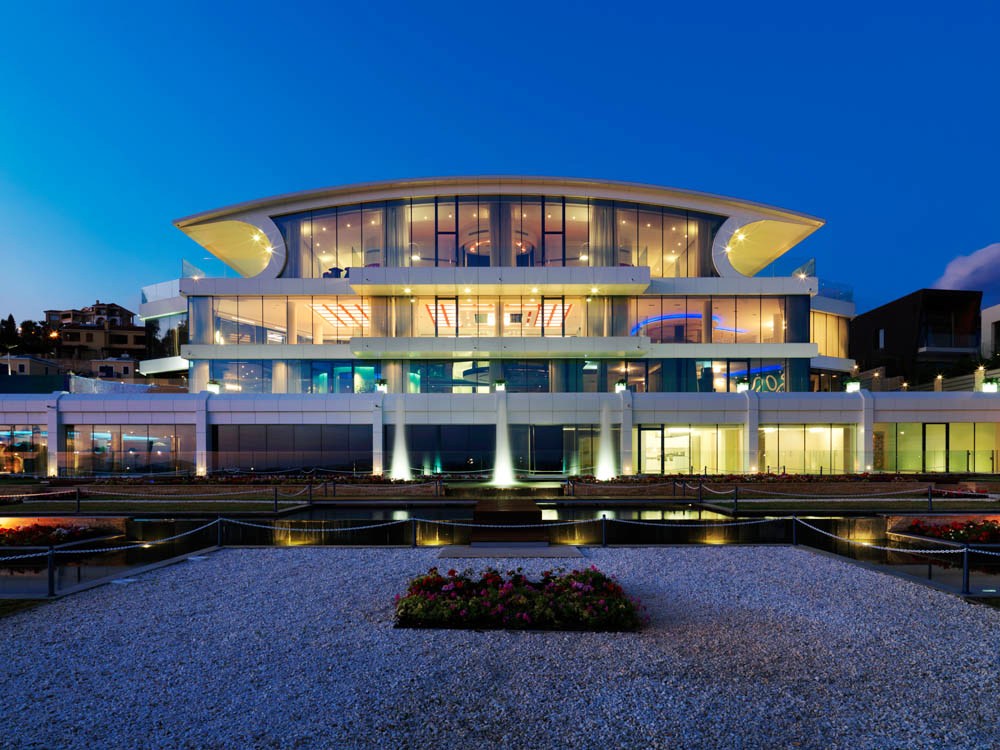 THE MOST EXPENSIVE AND MOST LUXURIOUS BEACH FRONT RESIDENCE FOR SALE IN LIMASSOL CYPRUS
Limassol,
€30,000,000
7 Bed | 6 Bath | 3264 m2 | MLS # 90
Sold
Property Information
PLOT: 2025m2  COVERED AREAS: 3264m2 BEDROOMS: 7 
Words cannot describe the beauty and quality of this unique and exceptionally huge Villa built to the east of Limassol right on the beach enjoying the most breathtaking unobstructed views across the Mediterranean!
Perhaps one of the most expensive properties within the EU and worth every penny of it. This a dream property and dreams are priceless!
A truly superb ultra modern residence that offers the last word in modern lifestyle and can be the ultimate residence for even the most discerning of owners.
The exterior of this residence is visually stunning reflecting the top end of a modern lifestyle. A renowned interior design team has designed the most effective use of internal space and sourced the very best materials available in order to create a truly exceptional home.
Santa Barbara Residence offers breathtaking sea views and a design which reflects the nature of Cyprus as an island where classical history meets modern culture. It unites the latest technologies with use of natural eco-friendly materials.
A truly unique property consisting of 5 levels each level with its own purpose and distinctive design.
Zeus Level – Represents the elemental forces of fire and water, their superiority, support and power.
The upper-penthouse floor is the owner's private area: a futuristic space of 240m2.
The essence of this level gravitates around the central super king size round bed. The level features an extravagant open bath – aquarium, from which one can admire endless sea views. It further boasts a private resting saloon, private study room, spacious curved wardrobes made of colored glass, a mini-kitchen with all necessary equipment and western and eastern sundeck verandahs.
There are also two bathrooms, one of which is equipped with infrared sauna and has panoramic views over the entire resort.
Hermes Level – Represents hospitality and the enterprise and business success of its owner. It features an open mobile space of 700м2 which may (within a few seconds) transform into a separate kitchen, dining room for seating up to 20 people and living room-salon. Located on the same level is a study room, equipped for work and official meetings. Use of automatic glass partitioning renders this level easily adaptable dependent upon the occasion, be it a formal dinner, buffet or a quiet candlelight dinner.
Apollo Level – Represents the sophistication and love of beauty of its owner and his patronage of the arts, poetry and music.  This level is designed for relaxation and pleasure with every feature dedicated to the well being of its owner. The spacious cinema, music saloon, "garden retreats "- exhibiting a labyrinth with of fragranced fresh herbs and the murmur of flowing fountains – and the snooker room which overlooks the cascading overflow swimming pool.
A separate wing is set aside for three guest bedrooms, each equipped with spacious bathrooms and exits to the gallery, which leads to the outdoor swimming pool.
Poseidon Level – An extensive area of around 1200m2 representing sea, health and power, and intended to bring harmony for body and soul.
The spa level offers a range of spa treatments to rival professional spa-centers.
The indoor swimming pool area covers 200m2 and there is also a panoramic ocean aquarium, hot springs tub filled with mineral waters of different composition and temperatures, a sauna, steam geyser, snow cabin, massage rooms, mud bath room, showers and changing rooms and bar and recreation area.
The gallery features a wine cellar carved into the rock walls and connects the spa area with a winter garden – a private kingdom of all year round, humid tropical plants.
There is also a fitness room and games room. Finally this level also houses isolated technical and storage facilities, including a working kitchen and refrigerator room.
Hephaestus Level – The lower level of the residence representing diligence and skill.
On this level there are three separate bedrooms, each of which has access to the garden and a separate bathroom, ready to comfortably accommodate 7 to 9 members of staff.
All in all this is a property that can only be afforded by the selected few and can only be enjoyed by those selected few. Perhaps the most expensive residence in the Mediterranean but also perhaps one of the largest most refined beachfront and luxurious residences that money can buy and for properties of such size elegance and style price is an irrelevance for those who can afford it!
Full Title Deeds.
Non-European buyers of this property and their families qualify for Cyprus Citizenship and a Cyprus / EU Passport.
Our office, through a reputable firm of lawyers, will make all the arrangements and pay all legal fees for all necessary procedures.
For more information and viewing arrangements call with no obligation 7 days a week from 9:00am to 9:00pm or email us anytime.
Greek & English Tel: + (357) 99 66 66 88 / Russian Tel: + (357) 99 86 23 12
PRICE: €30,000,000 (Thirty million Euro)
ALL RIGHTS RESERVED. Any unauthorized reprint or use of this material is prohibited. No part of this text copy or photographic material may be reproduced or transmitted in any form or by any means, electronic or mechanical, including photocopying, recording, or by any information storage and retrieval system without express written permission from the author/publisher.
[mappress mapid="124″]