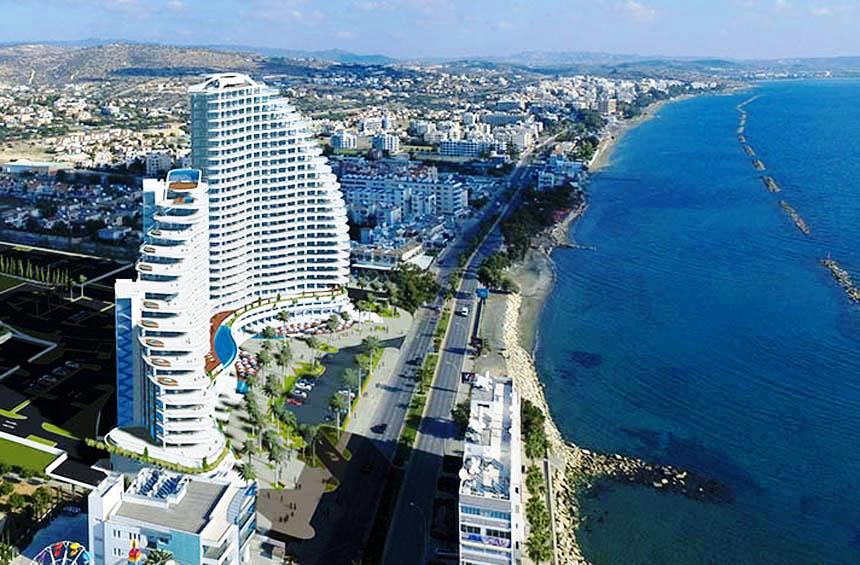 DEL MAR.. THE MOST IMPRESSIVE LUXURIOUS RESIDENTIAL & COMMERCIAL PROJECT EVER… IN LIMASSOL CYPRUS!
Limassol,
€2,000,000
| MLS # 211
Property Information
Note: For overseas non-European buyers, this property qualifies the buyer for Cyprus / EU Citizenship and a Cyprus / EU Passport.
Details on Request
Overview – Promotional Films
https://www.youtube.com/watch?v=74HM0GML3VU
https://www.youtube.com/watch?v=qPGqv2ta6mE
Main Features:
Up to 28 Floors
168 Residential Units
34,000 m² of prime seafront land
4.300 m2 of commercial space
540 Parking Slots
170 meter long sea frontage
Roads and green spaces on all 4 sides
Iconic architecture – unique high-rise curvilinear shape
Hotel Style Facilities, Concierge, Secured Entrance, Indoor & Outdoor Swimming Pool, Gym, Spa, High-end Shopping
Large apartments with wrap around terraces and magnificent sea views
Lavish penthouses and duplexes with roof gardens and private swimming pools
Sea facing outdoor swimming pool
EXCLUSIVE SEAFRONT LIVING!
Look out onto a gleaming sea and smell the fresh and unique sea odour of sea waves as these come splashing ashore, just a few yards from your apartment.
Close your eyes…
Imagine the possibilities and float on a sea of dreams
The journey just begun…
Del Mar, with its unique, high-rise curvilinear design, simply exudes elegance. Inspired by the dazzling location, the smooth curved architecture and surging balconies echo the sea. Here luxury abounds, yet there's an air of laid-back tranquillity.
Situated just across the beach with breath-taking sea views, Del Mar is Mediterranean lifestyle at its best.
Spacious layouts and luxury finishes raise the level for luxury living to unparalleled levels, providing residences of the utmost comfort and luxury.
Five star hotel-style services, sea facing leisure facilities and secured entry will form piece of mind in a safe and relaxed environment, ideal for permanent residence or to just retreat and rejuvenate.
Del Mar Plaza, with its branded shopping and fine dining, will occupy centre stage on Limassol's vibrant leisure & entertainment scene, creating a high-end core of activity.
Breath-taking Views from all Residences!
Never miss a moment of the beauty that surrounds you as your eyes stretch onto the infinite sea from every angle.
Enjoy unforgettable times on terraces that turn into outdoor living rooms as indoor and outdoor areas merge, adding to the immense sense of space.
Luxurious Interiors
Palatial, seamless layouts that are simply beyond anything words can describe as uncompromised craftsmanship complemented by fine detail and the best materials plus state-of-the-art technology create a space of supreme and outstanding elegance.
5 Star Hotel-Style Facilities
Start your day with a swim in the pool or keep up with your fitness regime at the fully equipped sea facing Gym while a dedicated spa will allow you to retreat from life's stresses and emerge rejuvenated and full of positive energy. 
High-End Shopping, Dining & Leisure
No need to go further than your own doorstep to enjoy the fusion of luxury shopping or dining and other services that will be found at Del Mar.
Del Mar Plaza will also become a leading destination for luxury shopping and fine dining enhancing the development's overall appeal and desirability even further!
Overseas visitors can be collected at the airport and shown around Limassol and the Del Mar project as well as any other project, any day of the week.
For more information and viewing arrangements call with no obligation 7 days a week from 9:00am to 9:00pm or email us anytime.
Prices From: €2 million + vat (subject to availability)
"© ALL RIGHTS RESERVED Any unauthorized reprint or use of this material is prohibited. No part of this text copy or photographic material may be reproduced or transmitted in any form or by any means, electronic or mechanical, including photocopying, recording, or by any information storage and retrieval system without express written permission from the author/publisher.
[mappress mapid="272″]